Dear SJCP Parents/Guardians,
Next Wednesday, September 23rd, all SJCP seniors will take the SAT here at school. This is a mandatory school day for all seniors and a small group of juniors who have previously registered with Mrs. Seymour. If your child does not plan to attend a 4-year college or all their colleges are now test-optional, this is still a required assessment that we use as a diagnostic tool. Please note that test scores do not need to be sent to colleges unless the student chooses to do so through their College Board account.
In order to make this day successful, there are several important items of which you need to be aware
Students need to arrive between 7:15-7:45 a.m. to receive screening. The test will start promptly at 8:00 a.m., and unfortunately, students will not be allowed into their test room once the test has begun. Should your child have some unforeseen circumstance that would prevent their on-time arrival, please have them continue to school for further instructions.

Students will be assigned to classrooms alphabetically in groups of 7 to adhere to social distancing protocols. Classroom assignments will be given to students as they arrive and will be posted throughout the school. Students should go directly to their testing room upon arrival.

We anticipate the test ending between 12:00-12:30pm. Students will be dismissed once all tests have been collected. The school building will close at 1:00pm, so please be sure to pick up your child by that time.

Bus service will not be available, and lunch will not be served.



Student Checklist – Must Haves
Nice to Have
A watch (without an audible alarm)

Extra batteries for calculator, extra pencils, extra approved calculator—you'll have to ask for permission to access them. They cannot be on your desk during the test. Math teachers will not be able to provide calculators.

A bag or backpack

A drink or snacks (for break, can't be on desk)
What NOT to Bring
Any devices, including digital watches, that can be used to record, transmit, receive, or play back audio, photographic, text, or video content

Audio players/recorders, iPods, MP3 players, tablets, laptops, notebooks, Google Glass, or any other personal computing devices

Any texting device

Cameras or any other photographic equipment

Separate timers of any type

Protractors, compasses, rulers

Highlighters, colored pens, colored pencils, mechanical pencils

Pamphlets, papers of any kind

Dictionaries or other books—there are no exceptions, even if English is not your first language

Phones will need to be stored away and not used during any of the testing time, including breaks
And perhaps the most important thing for a successful SAT day is a good night's rest and a healthy breakfast.
We are pleased to be able to offer the SAT to your child. Please do not hesitate to contact us with questions or concerns.
***All students not taking the exam should be at home using the time as a "catch up" day to ensure they are on track with all their coursework. No new assignments will be given on this day.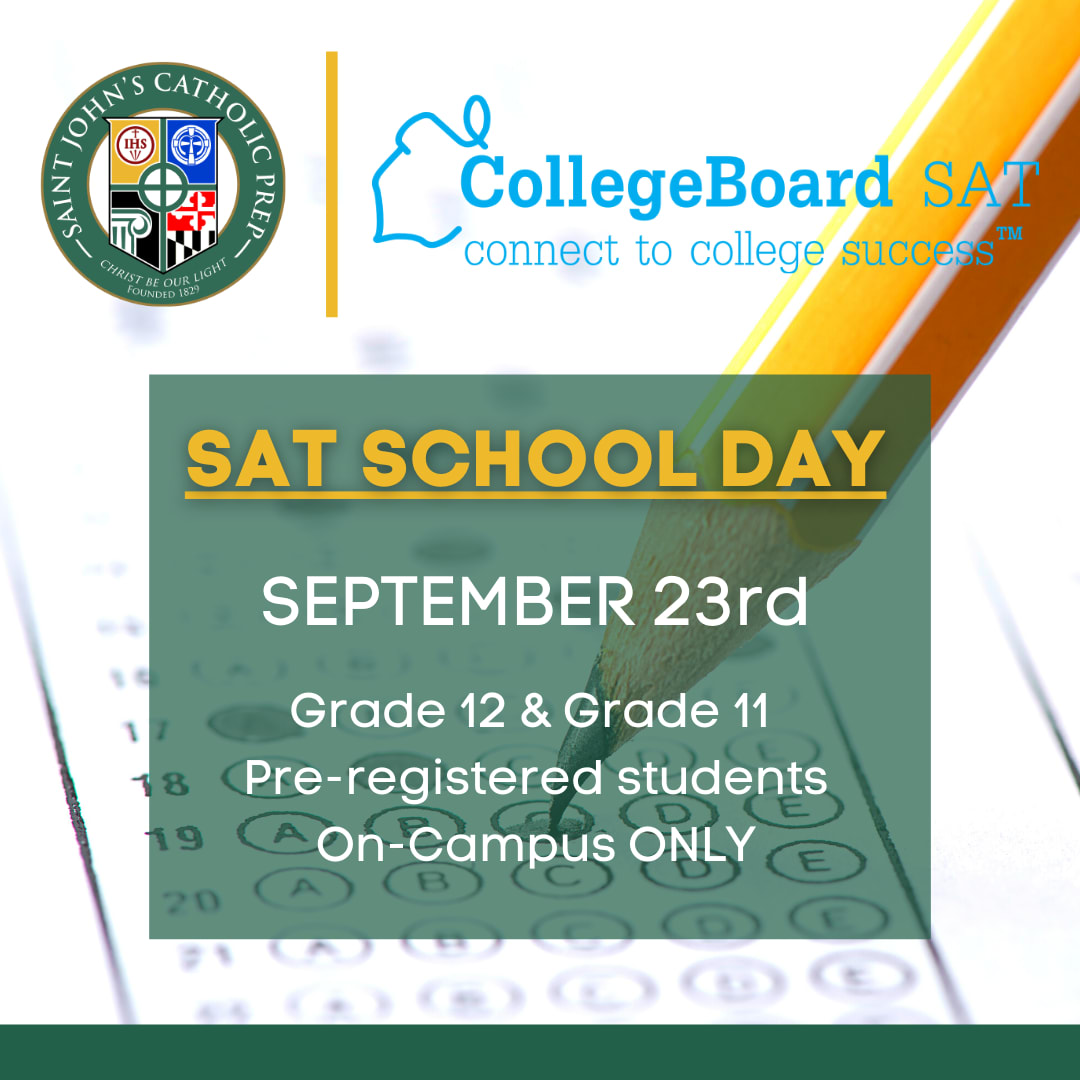 © 2018 Saint John's Catholic Prep
3989 Buckeystown Pike, PO Box 909 | Buckeystown, Maryland 21717