Dear SJCP Parents/Guardians,
Good evening!
Tomorrow your child's first-semester schedule will be available for review in Blackbaud. To access your child's schedule, have your child log onto the Blackbaud SMS Portal using his/her username: student email address ending in @saintjohnsprep.org and password: the password used to log onto his/her school laptop. On the home screen you will find a tile titled "Courses". There are buttons to switch between the 1st semester and 2nd semester. Only review the 1st semester schedule, as the 2nd semester schedules are tentative at this time. For each course on their schedule you will see Course Title - Section# (Block).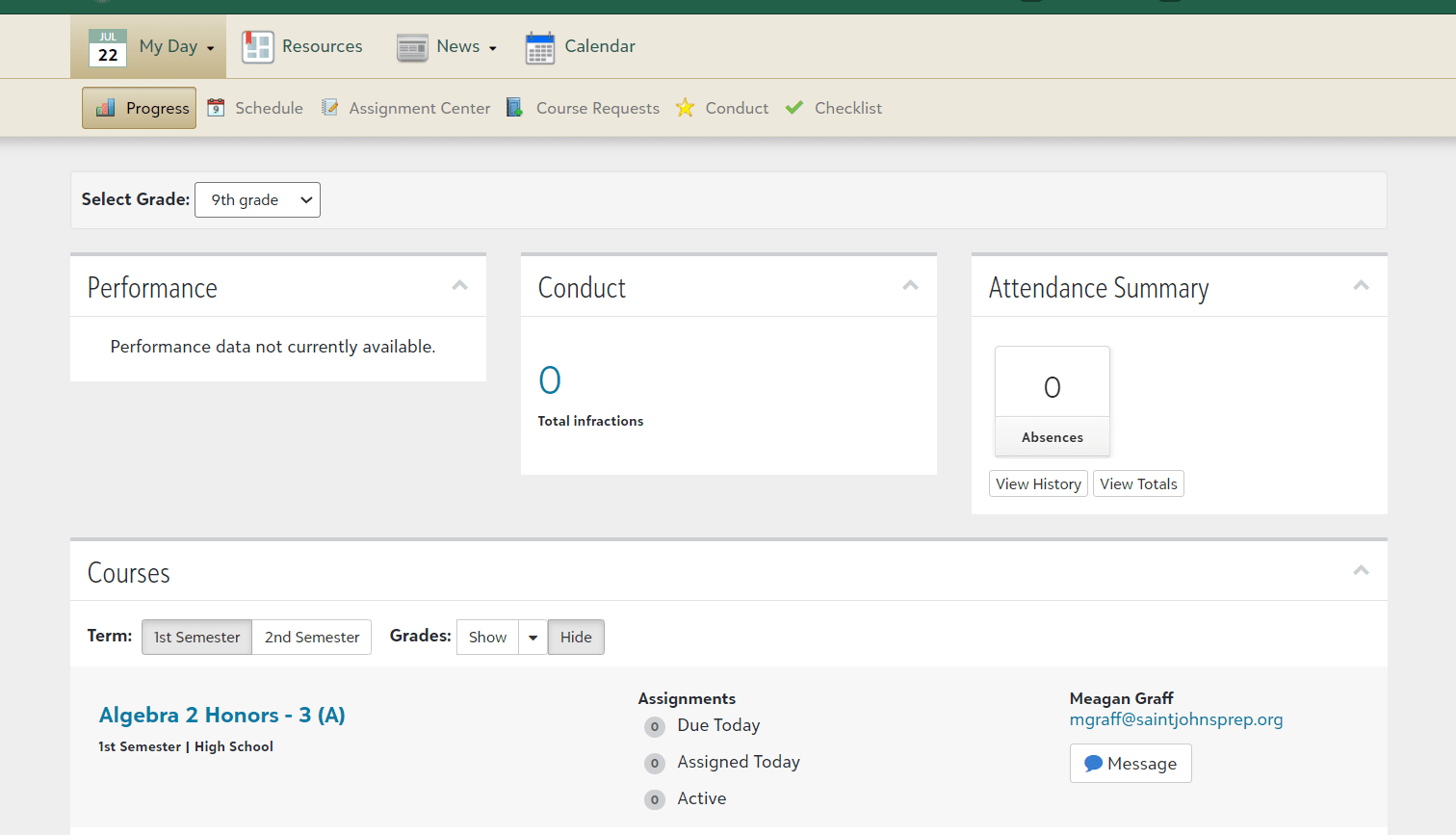 The administration and counseling department have spent several weeks looking at each student's schedule individually and making adjustments where necessary. We believe we have created the best schedule possible for each student when it comes to fulfilling graduation requirements, his/her individual course requests, and the course offerings available in each particular period.
Should your child like to request a schedule change, the schedule change request form must be completed by Thursday, September 9 at 3:00 PM. All students must complete a schedule change request form in order for the counselors to review their requests. Please review the directions carefully before submitting the form. You will be contacted by the counselors via email with the decisions on the schedule change requests. As always, a request for change is not a guarantee that the change will occur. As a friendly reminder, every student needs a minimum of 26 credits for graduation, one full credit of technology, one full credit of fine arts, and one-half credit of financial literacy
2nd semester schedule changes will be offered and reviewed in January as 1st semester ends and the 2nd semester begins.
Some courses require the purchase of textbooks. The online textbook store, MBS Direct, will open Monday, July 26. Click on the link below, and simply check the class(es) for which your child has been scheduled. There are options for purchasing new or used textbooks from MBS, and shipping is free for the first two weeks (through Monday, August 9th) on orders over $100 for MBS books. You may also check "The Marketplace" options where MBS allows individual sellers to offer books. These books offer a variety of prices and could save you some money, but the free shipping promotion does not apply to the Marketplace. Any questions regarding textbooks can be directed to our registrar, Mrs. Toni Edwards.
All English classes and some math and AP courses require summer work. Check if your child's class has a summer assignment.
Finally, below you will find the new bell schedule for the upcoming year. We are returning to a schedule that allows classes to meet more frequently during the week which we believe will be beneficial to students as they transition back from a very challenging year.
As always, please do not hesitate to reach out with any questions or concerns.
Sincerely,
Jill Seaman
Assistant Head of School
© 2018 Saint John's Catholic Prep
3989 Buckeystown Pike, PO Box 909 | Buckeystown, Maryland 21717