This year has brought so many exciting changes to the Campus Ministry Department at Saint John's. The year kicked off in a new shared office for Campus Ministry Director, Caroline Nelson, and School Chaplain, Father Mike McDermott.
by Caroline Nelson
Meet the Saint John's Team
Mrs. Susan Belmar is our  Algebra 1 and Honors Geometry teacher at SJCP. 
Mrs. Judith A. Ballenger, "Judy", teaches Health, Intro to Computer Science, and Publication & Journalism at SJCP. She is also the moderator for the Student Ambassadors, the Green & Gold Newspaper, and ASL club.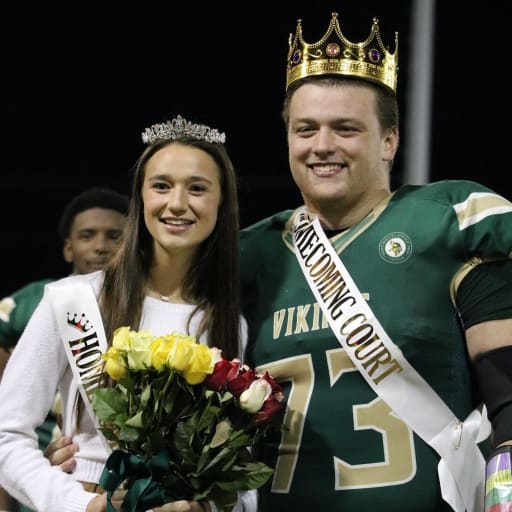 October 22, 2021
SJCP celebrated Homecoming with a parade and the crowning of the 2021 Homecoming King and Queen, Kevin Langley and Megan Adams. The McSherry Maniacs along with the Catholic Prep Cheerleading squad cheered the Viking Football team on to a 31-6 victory over Severn. At the conclusion of the game, they gathered together to praise God for their safety, the win, and the ability to once again continue the Homecoming tradition.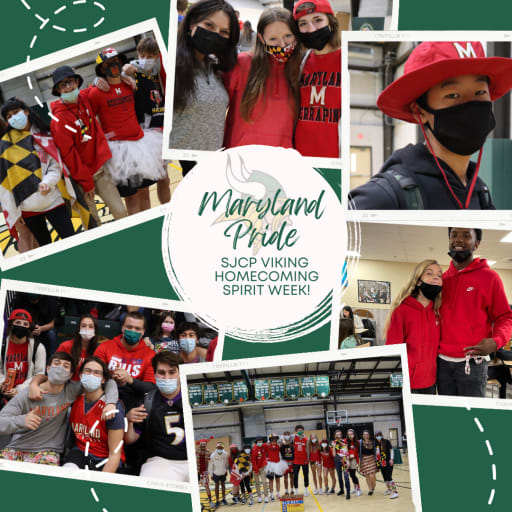 October 22, 2021
Spirit week began with the traditional Class Hallway Decorating. Throughout the week parents and students had the opportunity to vote on their favorite, and the winner is... the Senior Class with the 1970s! During Spirit Week, students showed their school spirit by dressing according to the theme for the day, from Through the Decades, Twinning, Disney, Maryland Pride, to Viking Spirt Day.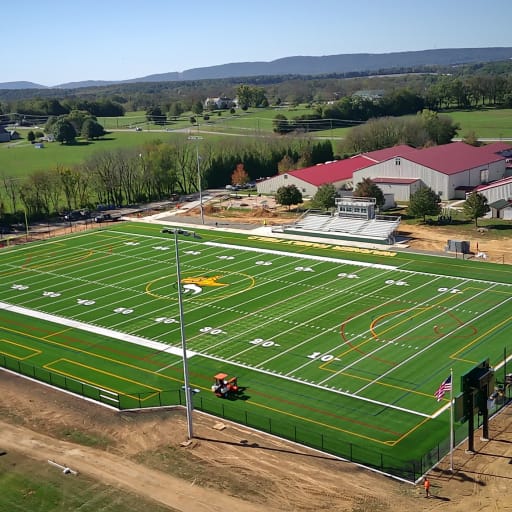 October 20, 2021
The entire SJCP community is excited to see the progress on the Warner Stadium project. The scoreboard and goalposts are installed and the turf field has been laid. We now have a 50-yard line! Work continues to give our Vikings Home Field advantage at the Warner Family Field! Become a part of this historic project by donating to the Promises Campaign. #GoVikings.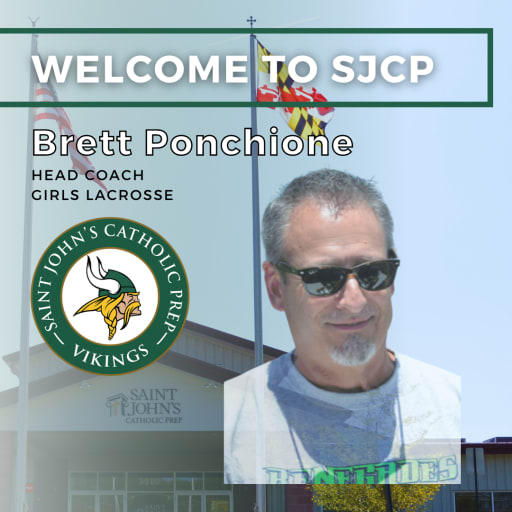 October 12, 2021
Coach Brett Ponchione comes to SJCP after most recently serving for two seasons as the Head Women's Lacrosse Coach at Howard Community College - taking over a program with a historical record of 44-46 and in two years led them to a 30-5 record. Coach Ponch was named an NJCAA Coach of the Year both seasons, coached four student-athletes to All-American honors, 15 to All-Region XX honors, and 16 to All-MDJCO honors.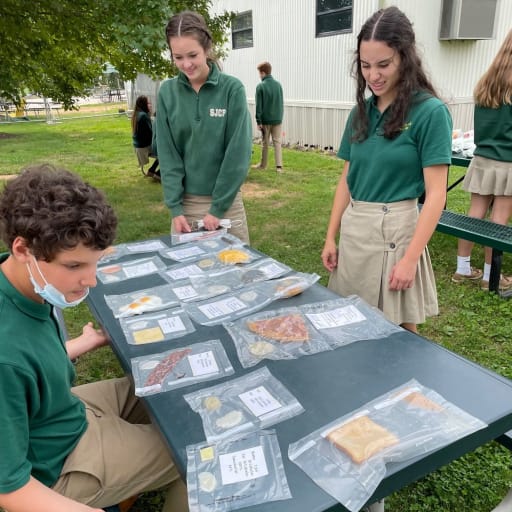 October 10, 2021
Mr. Brian Nogay's Biology classes are studying nutrition. They are looking at the sugar and fat content in foods and learning the importance of healthy eating.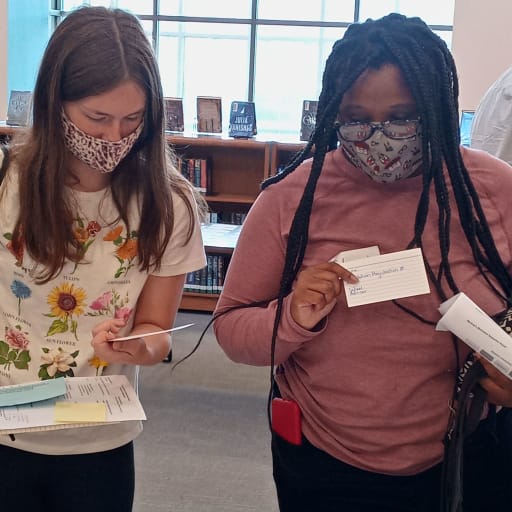 October 10, 2021
Three SJCP students, Vic Siyan, Sam Hackley, and Gloria Walker-Hoover, participated in the registration and workshops for the 17th Annual Frederick County Model United Nations Conference. They attended workshops on writing a position paper, passing a resolution, and the functions of the Model UN simulation. They also selected their countries for the conference to be held on Saturday, January 8, 2022.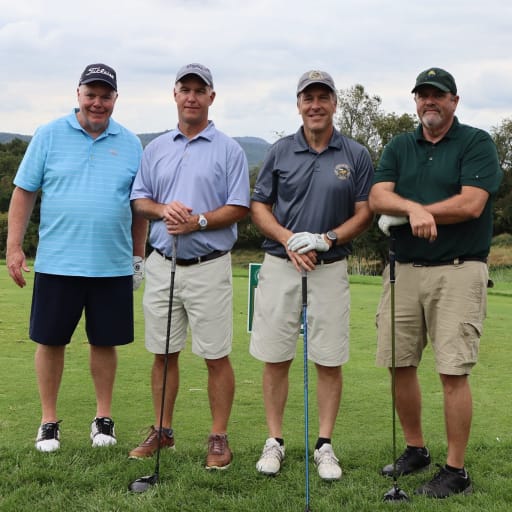 October 8, 2021
Thank you to the many sponsors, golfers, volunteers, and friends that joined us for a beautiful day in honor of SJCP Athletics at Worthington Manor Golf Club. We are humbled by the generosity and support we received for our Athletic Programs!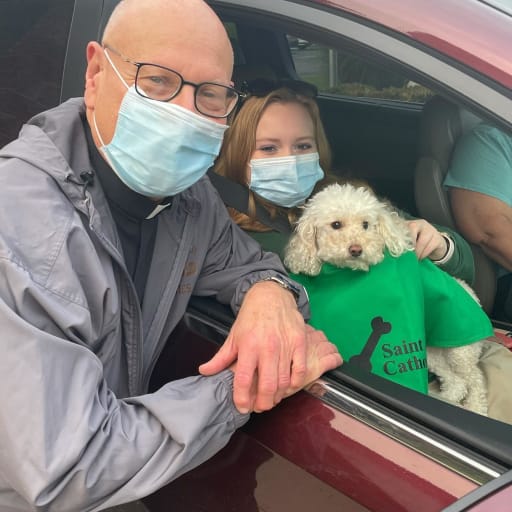 October 7, 2021
Thank you, Father McDermott and Campus Ministry Director Caroline Nelson for honoring St. Francis of Assisi with the Blessing of the Animals! Thank you to the many families that brought their pets during the drive-thru morning drop-off. We had an assortment of pets with some of the most unusual being a snake and a chicken. What a great reminder to us all of God's beautiful creations.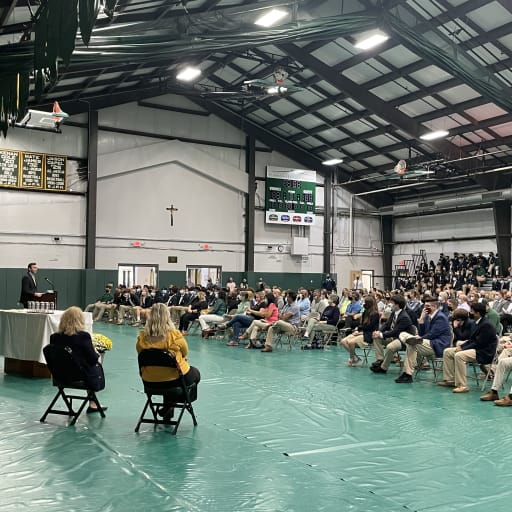 October 1, 2021
On Friday, October 1, 2021, the SJCP community gathered for the bi-annual Academic Honors Assembly. This celebration recognizes the academic accomplishments of students from the second semester of the 2020-2021 school year. Antonia Bedard opened the assembly with a prayer, Kevin Langley led us in the Pledge of Allegiance, followed by a welcome from Head of School Will Knotek. Congratulations to our award recipients!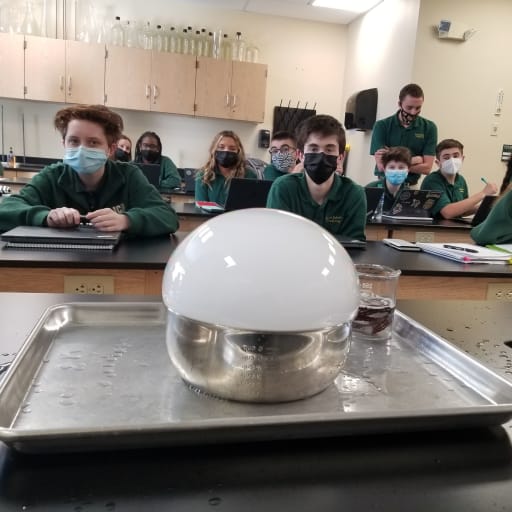 September 27, 2021
In celebration of this week's "Molecule of the Week," carbon dioxide, Dr. Erin Smith's chemistry students made giant bubbles by sublimation of dry ice. They also learned about the importance of carbon dioxide to life on Earth, its role in the atmosphere, and its unique properties as a chemical substance.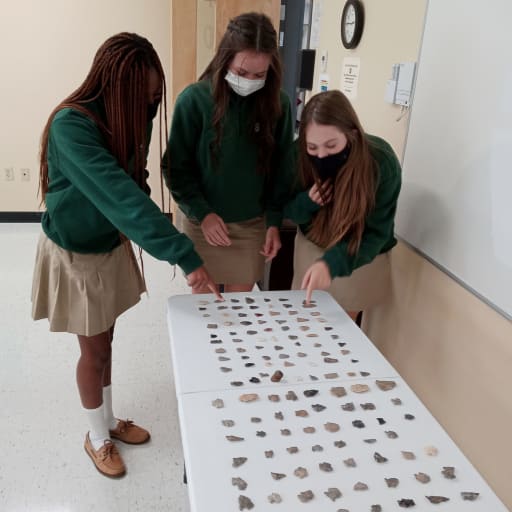 September 24, 2021
Mr. Greg Ross's Modern World History students are studying early civilizations in the Americas. Mr. Ross shared with the students his collection of indigenous people's artifacts.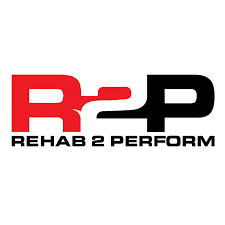 September 24, 2021
SJCP Athletics partners with Rehab2Perform (R2P) to keep our student-athletes healthy and help them reach their full potential. Meghan Gray, Athletic Trainer, is present for all home athletic events for the well-being of our student-athletes and our opponents. Meghan tapes and preps the players before each game and practice. We are so lucky to have such professional, experienced trainers to keep our Vikings strong!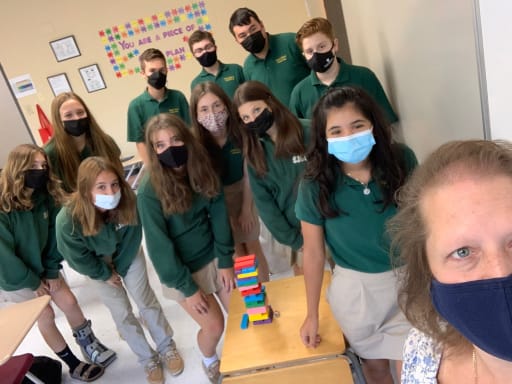 September 15, 2021
Theology teacher Mrs. Christine Bruce began the school year with 'Getting to Know Ya Jenga' to help students build relationships with one another in order to support and lift each other up and learn about Jesus.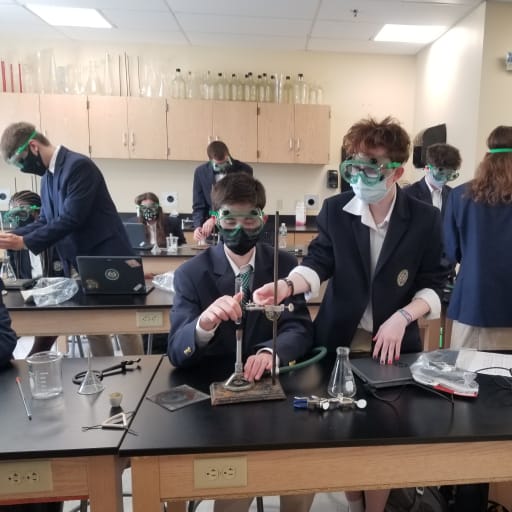 September 14, 2021
Dr. Smith's Chemistry and Honors Chemistry students begin the school year by learning how to use laboratory equipment. The students are ready and excited to begin performing experiments this year in Chemistry class!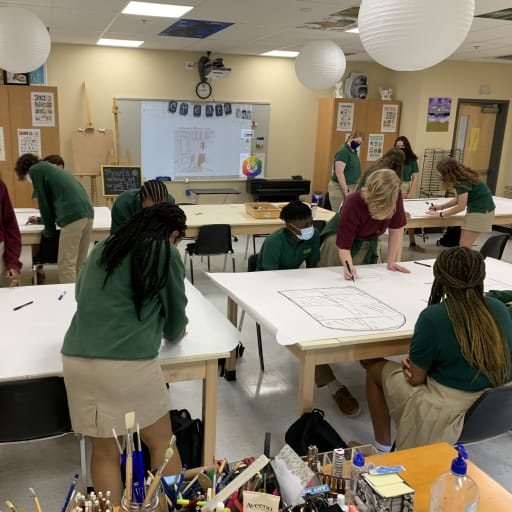 September 12, 2021
Mrs. Bernadette Miller's Graphic Design and Illustration students had fun collaborating to create life-sized illustrations.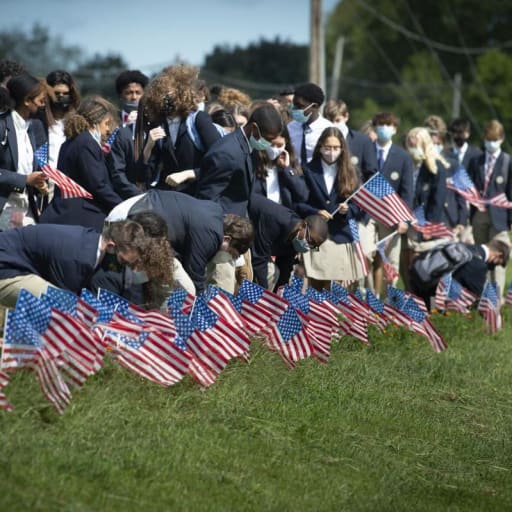 September 10, 2021
Saint John's Catholic Prep concluded the first week of school with our opening liturgy on Friday, September 10. It was a beautiful celebration lead by Father Michael McDermott and the SJCP Liturgy Band. Mass was followed with a tribute, on the 20th anniversary of 9/11, honoring first responders and those who died on 9/11. In addition to the victims and their families, students were reminded to keep in their thoughts and prayers all those who have served and continue to serve in our military and as first responders. Students, faculty, and staff decorated the front of the school with American flags.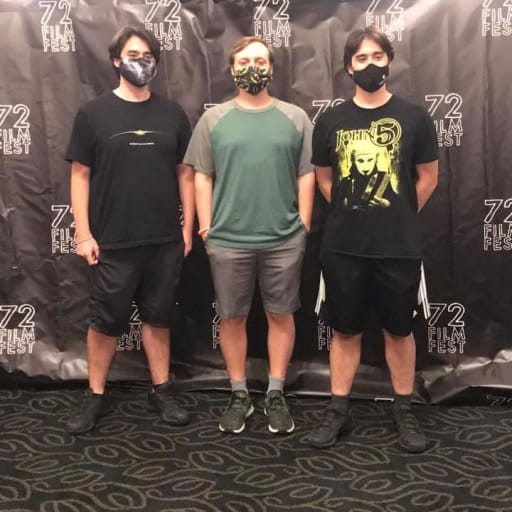 October 20, 2021
Curtis Nishimoto, Thomas Nishimoto, and Jack Strayton, all from the SJCP Class of 2018, entered the 72 Film Fest for the second time (first as seniors in high school, now as seniors in college). 72 Film Fest is an annual film competition where Filmmakers have only 72 hours to make a movie based on a theme. Their film, "The Salt Incident", was awarded the "Best Student Film" award while also being nominated for "Best Cinematography", "Best Under 5 Minutes" and "Best of the Fest." Congratulations Curtis, Thomas, and Jack!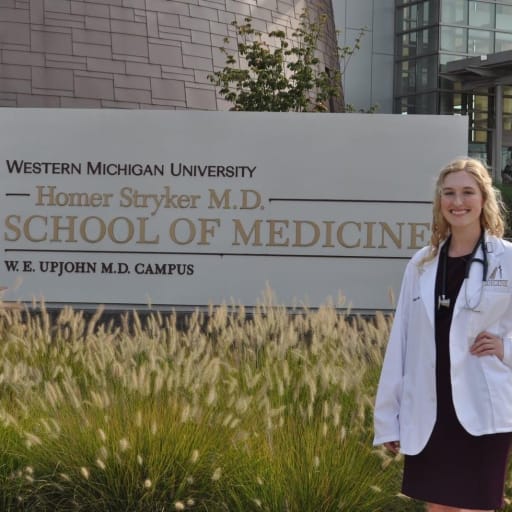 September 20, 2021
Kathryn Tighe, Class of 2014, graduated for the University of Notre Dame in 2018, and is in her second year of medical school at Western Michigan University Homer Stryker M.D. School of Medicine. Congratulations Kathryn!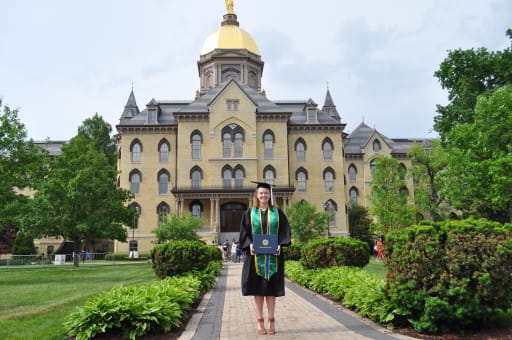 September 20, 2021
Emily Tighe, Class of  2017, graduated from the University of Notre Dame in May 2021 with a Bachelor of Arts degree in Psychology. She began work on a Ph.D. in Cognitive Neuroscience at the University of Utah in August 2021. Congratulations Emily!
Lord, you are hope for a hopeless world, Light for a blinded community. In this world of sin and despair, allow us to spread your shining message of hope. As our school promotes Community Awareness this month, we offer our prayers and intentions to you with the faith that you will answer them according to your divine will:
For those community organizations who seek to provide care, shelter, peace, and healing to those who suffer in our community, we ask for your guidance and support.
For those who are, themselves, suffering in our community from abuse, homelessness, hunger, or illness, draw them close to yourself and wash them in your cleansing love.
Lord, in all things, be our refuge from pain, replacing our distress with peace; and be our strength when we feel weak and find it hard to carry on. At times when we cannot speak or lack the words to say, help us to "Be still, and know that you are God".
We ask all these things always in your Holy Name.
Amen.
Contributed by Caroline Nelson, Director of Campus Ministry
© 2018 Saint John's Catholic Prep | 3989 Buckeystown Pike, PO Box 909 | Buckeystown, Maryland 21717
Unsubscribe Link