On February 17, 2021, The Saint John's Catholic Prep (SJCP) Board of Trustees announced to the SJCP community Principal Will Knotek will be appointed as the new Head of School beginning July 1, 2021. 
Meet the Saint John's Team
Mr. Fred Bubbers is one of our newest faculty members at Saint John's Catholic Prep, teaching English and moderating our Creative Writing Club. 
Mrs. Julie Hoehn is one of our two amazing School and College Counselors at Saint John's Catholic Prep who helps our students navigate the academic, social, and emotional challenges of their high school years and the college admissions process.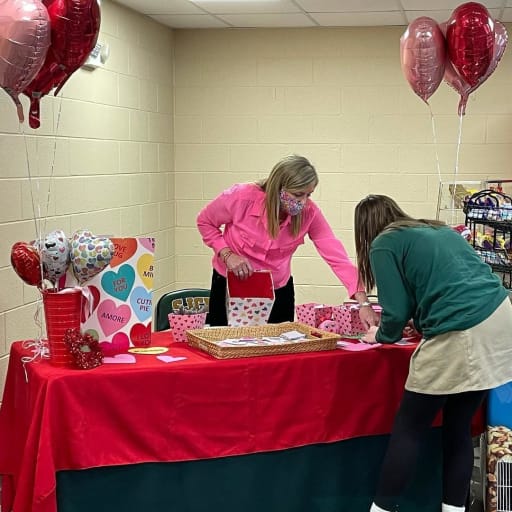 February 8, 2021
Leading up to Valentine's Day, our Viking Parent Organization (VPO) took orders for Balloon-Grams to be delivered to the sender's friend, favorite teacher, or special valentine. Thank you to our wonderful VPO for always bringing spirit and love to SJCP!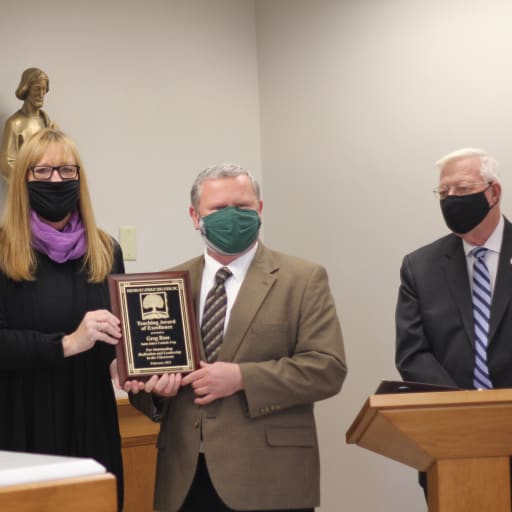 February 5, 2021
Congratulations to Mr. Greg Ross, who was honored as Saint John's Catholic Prep's Teacher of the Year by the Friends of Catholic Education (FOCE). Each year, FOCE honors a teacher at the Catholic schools in Frederick County in celebration of Catholic education. We are so grateful for Mr. Ross's dedication to our students!⁠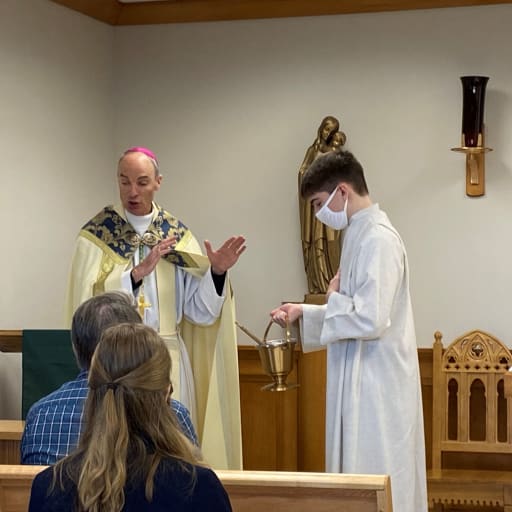 February 5, 2021
Saint John's Catholic Prep held the Blessing & Dedication of the NEW St. Teresa of Calcutta Chapel lead by Bishop Parker. This very special occasion was made possible by our generous donors: Archdiocese of Baltimore, Leo and Chris Rocca, Andreas Foundation, Joseph and Ann Buyalos, Richard and Michele Rogers, John and Karen O'Boyle, Gregory and Sherri Gondeck, Louis and Amy Foss, Willam J. Mohan, Michael and Elizabeth Kinley, Fred and Lauren Burton, Regina A. Ritenour, and Leslie Nuse. We would also like to thank Dixon Studios, Ron and Annie Dixon, for their beautiful work designing and creating our chapel and Warner Construction for their work transforming the room for Dixon Studios. We are incredibly grateful for this historical celebration and to be able to foster our commitment to our Catholic faith.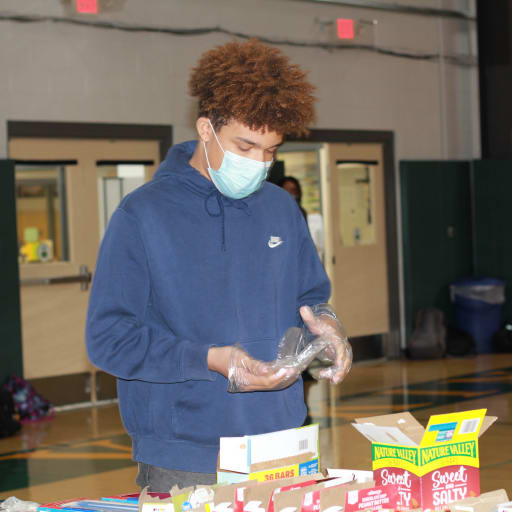 February 4, 2021
As part of our celebration of our community during Catholic Schools Week, students assembled 519 Emergency Snack Packs for the Frederick Chapter of Blessings in a Backpack! Blessings in a Backpack feeds "Frederick's Future, One Child at a Time". Through the efforts of dedicated volunteers and financial support from the community, they hope to end childhood food insecurity in our county. Thank you to everyone who donated and supported this service project. All extra food products that went unpackaged were donated to Saint Zita's Food Bank.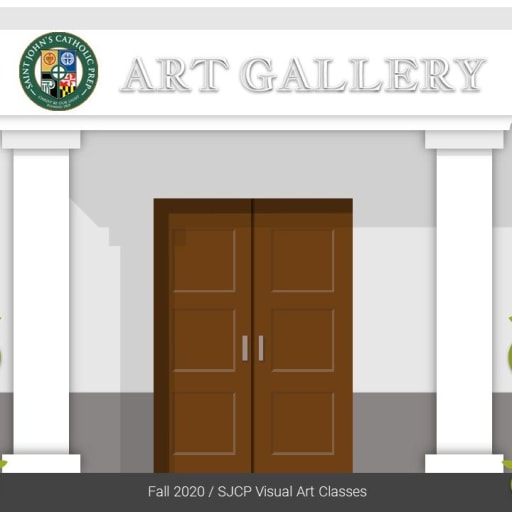 February 3, 2021
SJCP Art teacher Mrs. Bernadette Miller has created an SJCP Virtual Art Gallery containing the artwork of students in her Art 1, Art 2, and Graphics Design classes. Enjoy the tour!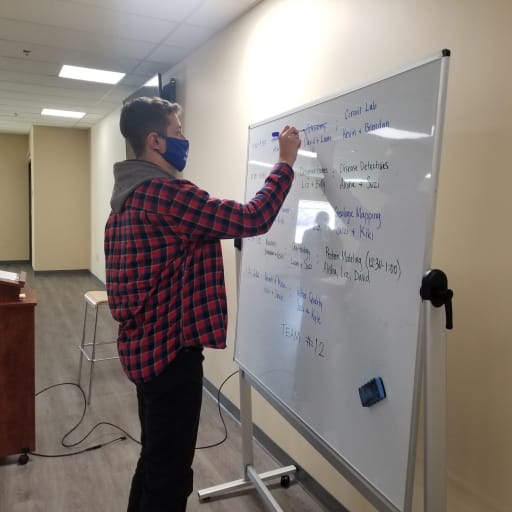 January 31, 2021
The SJCP Science Olympiad team spent their Saturday competing in the University of Maryland Virtual Tournament. The team placed in the top five for Machines (Kevin and Brendan Guinan) and Sounds of Music (Kiki Papageorgiou and David Giandrea). Congratulations SJCP Science Olympiad Team!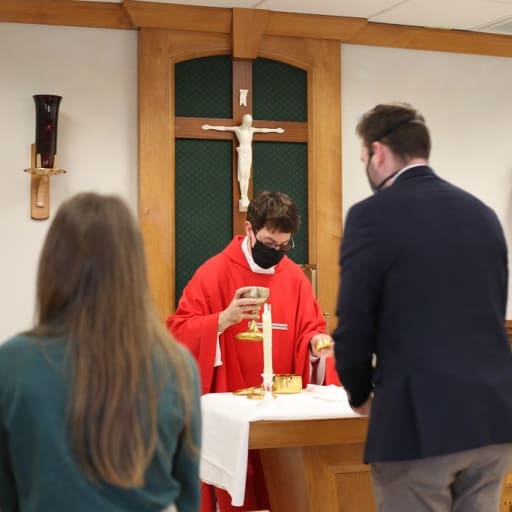 January 22, 2021
Saint John's Catholic Prep celebrated their first Mass of the school year and of 2021 in our new Saint Teresa of Calcutta Chapel. Students in the gold cohort were on campus attending on Zoom from their classrooms while students in the green cohort participated on Zoom from home along with many of our parents. Mass was celebrated by Father Steven Roth, the Director of Vocations for the Baltimore Diocese.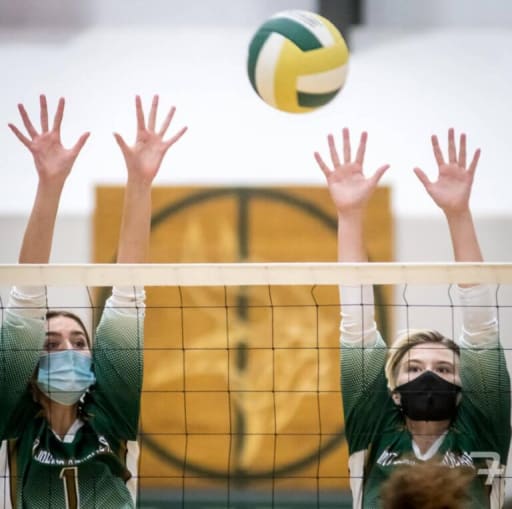 January 21, 2021
Saint John's Director of Athletics Pete Strickland was interviewed about high school athletics during the pandemic. Read the article in the Catholic Review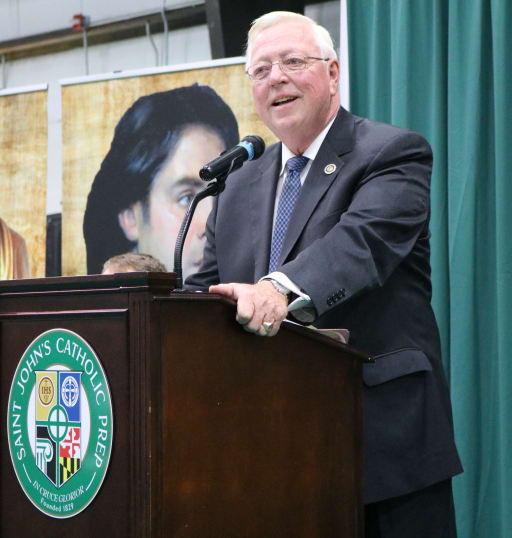 January 12, 2021
Thomas Powell, president of Saint John's Catholic Prep, announced Monday, January 11 that he plans to leave the school at the end of June. Dr. Powell has led the SJCP for the past six years. He plans to dedicate his time and attention to working with children with intellectual disabilities and their families. Over the last six years, he has presided over a steady increase in enrollment and raising the bar on academic rigor and standards.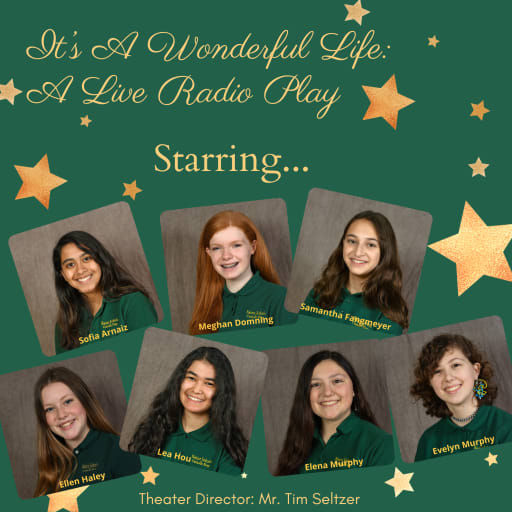 December 22, 2020
Saint John's is excited to release the recording of our Fall theater production "It's A Wonderful Life: A Live Radio Play". Our theater director, Mr. Tim Seltzer, and our students did an excellent job considering most rehearsals and the final video recording were done via Zoom! The play is a perfect fit for the Christmas holiday, and I hope you take the opportunity to enjoy it with your family.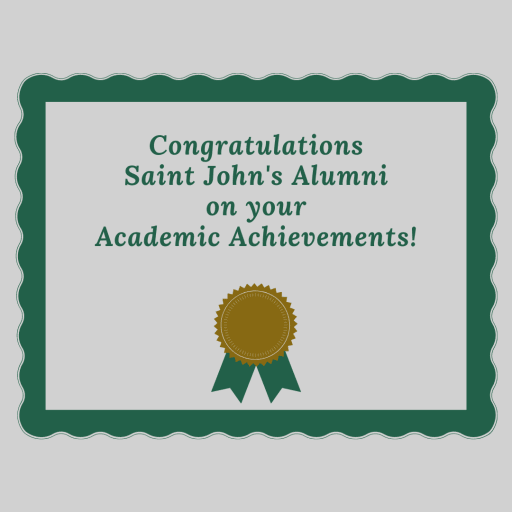 January 29, 2021
Congratulations to our Saint John's Alumni on their Fall 2020 academic achievements. We wish them continued success as they pursue their dreams! Deans List at Bridgewater College, Bridgewater, VA: Cheyenne Villarosa. Dean's List Mount St. Mary's University, Emmitsburg, MD: Nichol Alvarado, Feiqi Li, Piper Gardner, Tynan Gallagher, Addison Suit, Dmitri Millholland. Dean's List University of Scranton, Scranton, PA: John A. Nelson.
My God, I am in awe of your ability to be all things – mercy and justice, God and man, Alpha and Omega. In my own life and prayer, grant that I find balance. Let me not be so hard on myself as to be discouraged, but do not let me go so easy on myself as to become comfortable here. My purpose here is not comfort, but to be restless to find you. Not to settle into my ways, but to always progress and pursue the satisfaction that only eternity with you can provide. Allow me to know the restless peace of seeking you in this life, until I come to you in the next. I ask this through Jesus Christ, your Son. Amen.
Contributed by Caroline Nelson, Director of Campus Ministry
© 2018 Saint John's Catholic Prep | 3989 Buckeystown Pike, PO Box 909 | Buckeystown, Maryland 21717
Unsubscribe Link